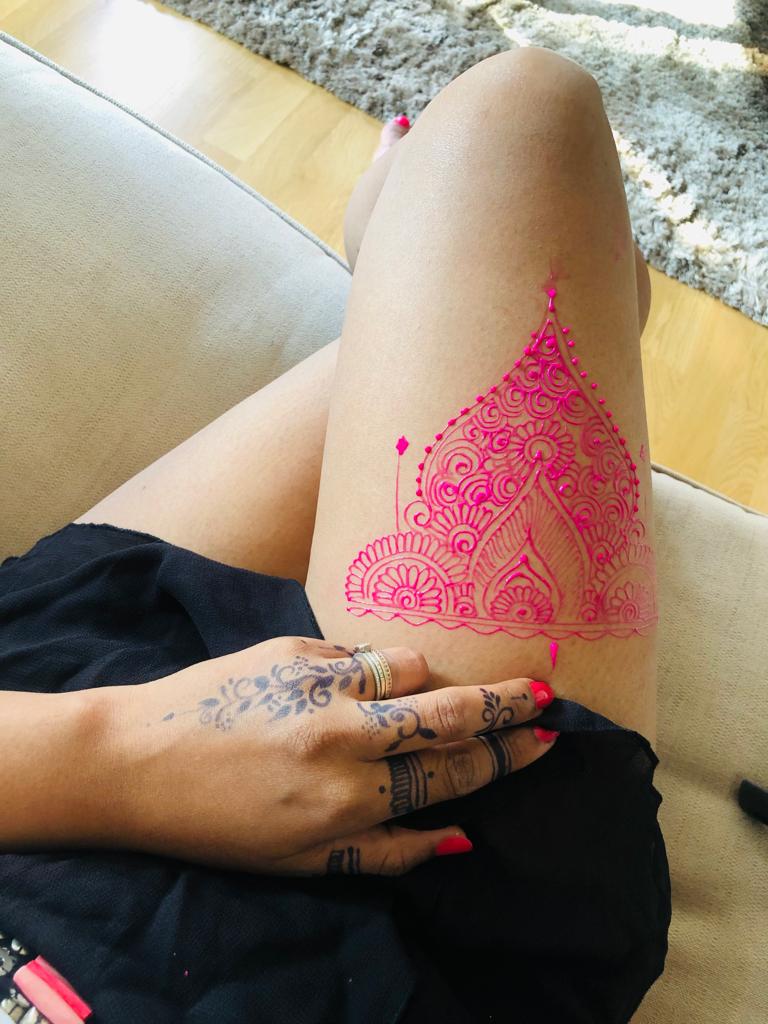 · By PAVAN DHANJAL
Henna Festival Fashion at Home
After months of grey skies and gloomy weather, the sunshine is (hopefully) finally here to stay. Whilst the much-awaited festival season is surely out of question this summer, spending time in the garden or meeting up with our friends in parks (make sure you always stick to the official Government advice) has become the main alternative to keep us entertained. Whilst festival fashion is definitely taking a hit this summer with all large social gatherings cancelled, we believe in the power of dressing up to boost your mood and make yourself feel closer to normality. Or just do it for the 'gram, we don't judge! And because festival fashion is all about the details, what a better time to pick up some henna cones and flash tattoos to jazz everything up?
Using body art to accessorise is a fuss-free way of adding a unique touch to summer pieces, with an array of creative designs to choose from. Henna is a great jewellery alternative, allowing you to create intricate patterns and designs that match up the shapes and styles of your favourite wardrobe pieces. From lace-looking designs to beautifully-drawn rings to decorate your fingers, the possibilities are endless. A cult favourite for the summer season is
Metallic Henna
. Available in silver and gold, the gentle formula is perfect to add some sparkle to a plainer look, instantly elevating body art. And because we know taking Saturday night's designs to the Monday's morning meetings isn't everyone's cup of tea (even though, why not?), the formulas only last on the skin for eight hours. When it comes to choosing a design, we are big fans of finger detailing. With ring layering being a massive trend to grace our Instagram feeds, picking up some metallic henna to play around with placement is the perfect budget-friendly alternative! If you are a fan of colour,
Neon Henna
is bound to become your go-to product. This popular formula is available in orange, pink and green for a futuristic twist. Similarly to Glitter Henna, its neon rival is also commitment-free: your colourful designs will last for 24 hours, making this type of henna perfect for parties, festivals, or even garden BBQs.
?utm_source=ig_embed&utm_campaign=loading" style="background: #FFFFFF; line-height: 0; padding: 0 0; text-align: center; text-decoration: none; width: 100%;" target="_blank" rel="noopener noreferrer">

View this post on Instagram
Having a hard time picking ONE colour? We don't blame you! Our
Unicorn Henna
is the perfect compromise, mixing together delicate pastels for a super-unique effect. This is bound to turn heads, making it perfect to accessorise plainer wardrobe pieces with. With the Tie Dye trend growing popularity, think of this formula as its henna version! For a more delicate touch, try some
White Henna.
This ultra-popular formula is a go-to for henna beginners as it's completely fuss free and easy to use, and it allows you to correct any mistakes – keep a cotton tip handy to move it into place if anything goes wrong by simply applying light pressure on the skin to lift the dye (before it dries). White henna is a great alternative to the original version as it gives that beautiful classic effect without the lasting power. And because summer wouldn't be the same without our favourite Flash Tattoos, there isn't a better time to pick up some show-stopping pieces to decorate your body. Whether you're into delicate Finger Tattoos or are looking for a statement piece, we have got you covered. All our flash tattoo shapes are hand-drawn to replicate our intricate designs, making them perfect for any Henna newbies! The best part? You can literally apply them in a matter of seconds with a tiny bit of water (or an ice cube!).