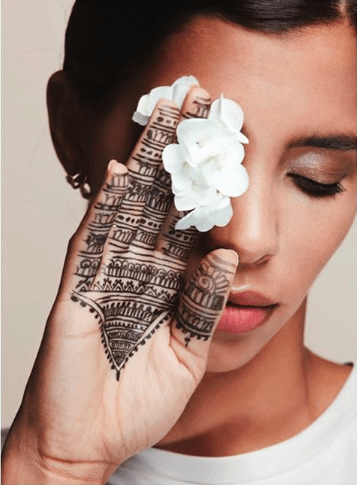 · By PAVAN DHANJAL
At-home Henna: Eid Edition
Decorating hands with henna is one of the most popular traditions in the preparation for Eid. Seen as a symbol of celebration in Middle Eastern cultures, the plant-based dye is used to create intricate designs, filling up our Instagram feeds with stunning creations.With the likes of celebrities such as Ellie Goulding and Perrie Edwards, the art of henna is undoubtedly gaining popularity as a new in-demand beauty service – and we're here to help you navigate the trends and give you an insight into everything there is to know about. As salons are currently closed, we wanted to let you in on all the how to's when it comes to showing your hands some love whilst at home. And with Eid celebrations around the corner, there isn't a better time to start experimenting.
First off, prep the skin!
Bare skin is always the best canvas for henna – you want to avoid any oily products such as hand creams beforehand. This ensures the dyes react with your skin normally and develop properly, giving you that lasting power so you can enjoy the stunning effects for longer. If you want to treat yourself to an at-home manito complement your design, we recommend doing it prior to the henna application – this will prevent any acetone or cuticle oil getting in the way, especially if you want to experiment with finger and knuckle detailing.
Find your best henna fit
Our
original henna
is suitable for all skin types, formulated with organic ingredients and completely safe to use at home. The scent is enhanced with essential oils for an aroma-therapeutic touch, so the process is bound to feel like a treat. The end-game when using this type of henna? A deep chocolatey colour that complements all skin tones and gives the much-raved-about traditional effect. When looked after correctly, designs with this type of dye can last up to fourteen days. For a deeper, more tattoo-like effect, try the
Jagua henna
– this is our safe, chemical-free version of black henna. The ink is sustainably sourced from the Jagua fruit and it is an all-round natural dye. Unlike traditional henna, this particular type leaves a light pay-off when initially peeled off, but fear not – the design will darken within the next 24 hours and it will grace your skin for two weeks. If you are not ready to make the fourteen days' commitment, our
white
,
metallic
 and
unicorn
formulas only last on the skin for 10-24 hours. This makes them perfect to experiment with, not to mention that the colours will give you a super-unique approach to the traditional look. Our top tip? Start with a block design using one of our two long-lasting formulas, and then add more intricate touches with your choice of colour or glitter. This is a mess-proof solution, especially if you are at the beginning of your at-home henna journey.
Get creative!
In the Middle East, jewellery-like designs extending to the fingers and knuckles from the back of the hands are a popular choice for Eid. You can play with metallic
colours
to create the shapes of rings and chains and add in those dainty details – gold and silver are the standard choices, but you can also try bolder colours for a more modern take on the trend. The crescent moon design is also popular around the time of Eid – a popular symbol of the feminine attributes, it can be decorated with delicate details such as gem-looking shapes or abstract feathers. For that beautiful dream catcher effect, try playing with thin strokes and add some metallic touches. If you are stuck on what design to go for, we've got an easy to recreate
Instagram tutorial
to get you started.
*If you have opted for the longer-lasting henna dyes, start laying out your designs 48 hours prior to Eid – this will ensure the colours are at their top intensity.
All about the aftercare
Now that you've nailed your design, it's time to make sure it stays locked in place. Your henna should start crumbling off about one hour after application, but we recommend keeping the area dry for at least five to six hours. That much desired strong colour pay-off is often aided by warmth – keeping your hands over a hot stove (with plenty of care, please!) or placing them near a heater will help the process. VapoRub is also a good trick of the trade as it contains the same oils as henna and it helps attract heat to the skin. Eid is the perfect opportunity to experiment with at-home henna, so let your imagination fly and treat yourself to some you-time by decorating your hands. Tag us on Instagram (
@pavanbeauty
) – we'd love to see your creations! Don't want to miss out on any henna stories?